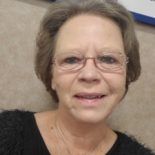 Rejeana holds a Bachelor's degree in Science in Behavioral Science/Sociology degree and is a United States Army Veteran.
Rejeana worked at Colorado TASC for the past five years where she worked closely with the Department of Corrections supervising a parole caseload doing assessments, assisting with resources, and dealing with mental health and substance related issues. Rejeana partnered with The Rock Found during her employment at TASC as well as with many other related agencies in Greeley where she developed relationships that support our clients.
Rejeana has lived and raised her family here and has sixteen grandchildren that keep her busy when she is not working!